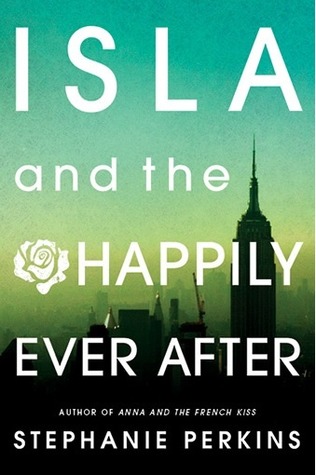 Author- Stephanie Perkins
Anna and the French Kiss #3 (companion series)
Published August 14th, 2014
Synopsis via Goodreads–
Hopeless romantic Isla has had a crush on introspective cartoonist Josh since their first year at the School of America in Paris. And after a chance encounter in Manhattan over the summer, romance might be closer than Isla imagined. But as they begin their senior year back in France, Isla and Josh are forced to confront the challenges every young couple must face, including family drama, uncertainty about their college futures, and the very real possibility of being apart.


Featuring cameos from fan-favorites Anna, Étienne, Lola, and Cricket, this sweet and sexy story of true love—set against the stunning backdrops of New York City, Paris, and Barcelona—is a swoonworthy conclusion to Stephanie Perkins's beloved series.
__________________________________
So this is book number three of the companion series by Stephanie Perkins. Her first book was
Anna and the French Kiss
and second was L
ola and the Boy Next Door
. Stephanie Perkins is a master at the art of contemporary romance novels set in high school without it being cheesy or cliche. I have read the first two books but apparently I didn't review them on here (silly me). I read the first book but I got it through the library. Since there was so much hype around this series I had to try it BUT I was hesitant because of the fact that romance isn't my thing.
I am pretty sure I read the first two books in like a single day. They were THAT GOOD!



(My reaction to all of these books)
Now since these are companions novels that means you don't have to read them in order BUT I strongly recommend you do. They build on each other and by the time you read Isla and the Happily Ever After all your favorite characters will make appearances and the author also winks at the reader about previous happenings (If you catch my drift).
Okay so this one is set in both Manhattan and Paris since her family is in Manhattan and she goes to an American boarding school in Paris. It opens up with Isla showing how obsessed she was with this boy that went to her school so when she saw him at a cafe during summer break she freaked! This is where I was a little hesitant. She has had a crush on this boy for years. BUT it wasn't what I was expecting. Thats all I am going to say since you know, no spoilers.
Another reason I applaud Stephanie Perkins is because Isla's best friend has high functioning autism. This causes some issues between Josh and Isla but its really cool to see a functioning relationship with autism. Also another thing she included was Isla's issues with herself. She believed she didn't deserve love and this caused her problems throughout the book.
Overall this book was fantastic but my least favorite out of the three. With this being said you should go read the first two. *Warning this book does contain a sex scene but can easily be skipped over*
Stephanie Perkins is easily an author on my automatic buy list.
(Sorry I couldn't find the 4.5)