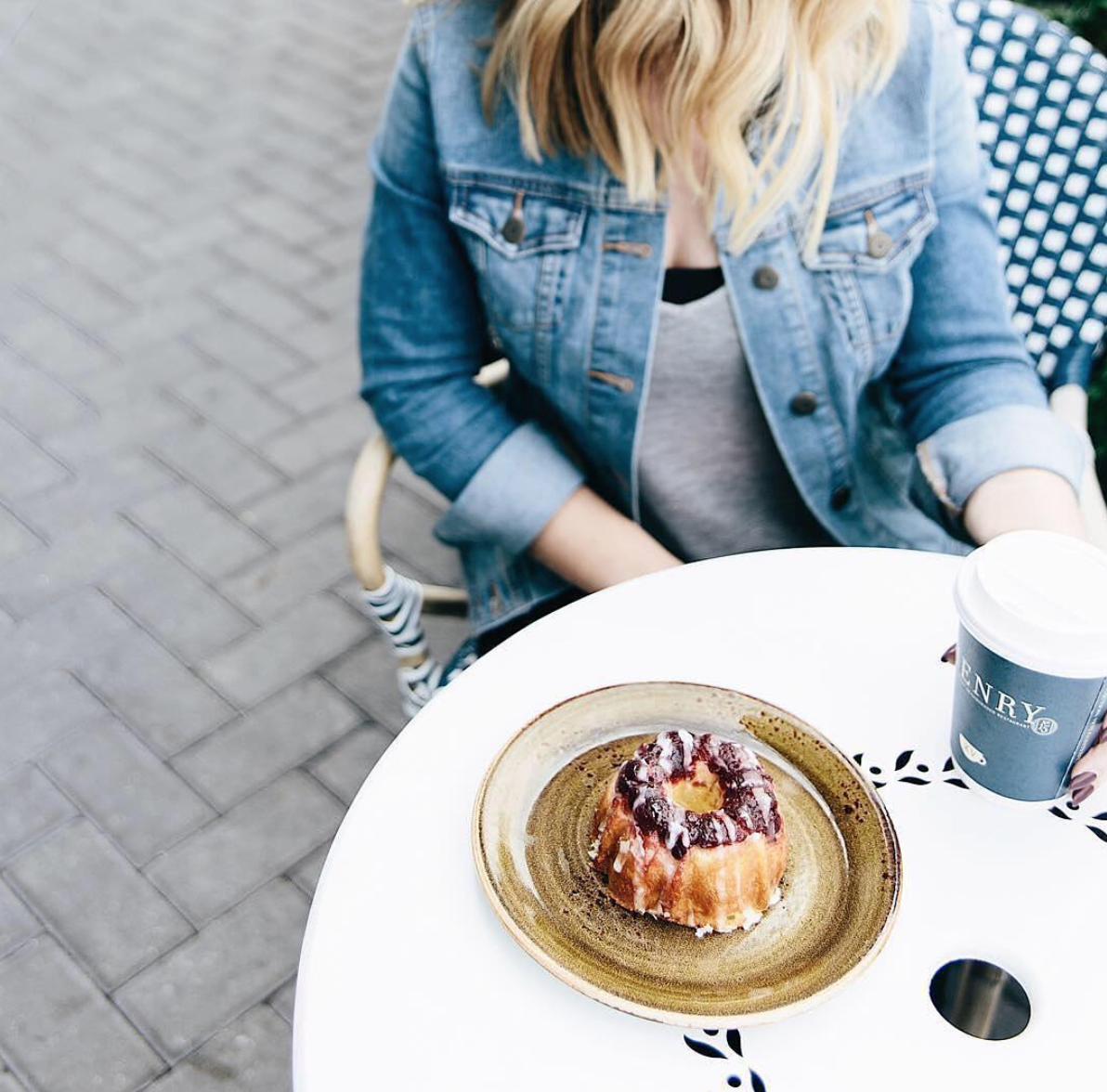 @thehenryrestaurant
I've always wanted to write a travel guide and nows my chance. With graduation right around the corner, I decided to write a post including my favorite Phoenix coffee shops to hang out in. Literally, there are so many options and I didn't even include all of the shops I've been to. We are a city of innovators and entreprenuers so this shouldn't come as a suprise that all of these are local shops. These aren't in any order EXCEPT my top three are numbered but you have to scroll down for those!
Address: 214 E. Roosevelt Street, Phoenix, AZ 85004
Coffee, breakfast, sandwiches and more this space has a fun environment! Plus you can go outside and take a picture at the overly insta's bird wall. Oh and can't forget the little shop in the same building called the Bosque that sells plants. Green everywhere.
Address: 4455 E Camelback Rd, Phoenix, AZ 85018
"Upscale-casual eatery with a patio, offering an American menu all day, along with a full bar." Okay so truthfully I've never been to this one but everyone talks about it so I had to add it in.
Address: 3620 E Indian School Rd, Phoenix, AZ 85018
"A while back an old auto oil shop closed its doors. We had a different idea – Sip Coffee & Beer Garage. The second extension to our local coffee and beer locations in the valley. This old garage is now one of the most popular destinations in Phoenix for specialty coffee, craft beer and a locally sourced food menu." This one is fun definitely a more rough vibe but has huge tables for gathering many people!
Address: 812 N. 3rd Street, Phoenix, AZ 85004
"While our focus is coffee and tea, you will love our house-made pastries and light foods. Vegan pastries, enjoyed by all, are delivered from the lovely ladies at Treehouse Bakery (less than 2 miles away)." Song Bird is in a little house off the main street in downtown Phoenix. It's on the smaller size but still fun + it has a porch swing for when you need to take a break!
Giant Coffee
Address: 1437 N 1st St, Phoenix, AZ 85004
"Funky hangout serving java blends & light fare in a loungelike atmosphere with rustic tables." Okay my only complaint is their isn't much seating so their name is rather controversial. Wall art in the back is definitely worth a photoshoot though!
Lux Central
Address: 4402 N Central Ave, Phoenix, AZ 85012:
"Rustic cafe & bakery serving an eclectic, ever-changing menu plus coffee, wine, beer & cocktails." Can't pass up Lux. This place is always hopping, has free postcards, is open late hours and sells the BEST mac & cheese.
"Hipster hangout offering eateries, a bar & a farmer's market in a vintage warehouse space." This is more of a building not a coffee shop but it is super fun and there are many options for food and drinks! Good place to go to write those three essays due tonight.
& Now for My top Three…..
Address: 4170 E Ponce de Leon Ave NE, Clarkston, GA 30021
The proceeds from this daytime coffee shop & nightime wine bar funds local nonprofits! If you are looking for a place to eat & enjoy chill vibes, this is your place! I always love supporting places that support awesome causes. It helps me justify the two teas.
Address: 1020 N 1st Ave, Phoenix, AZ 85003
"Fair Trade Cafe has two locations in downtown Phoenix Arizona where we serve fair trade coffee, and offer an assortment of in house bakery items as well as sandwiches and breakfast items. Come study, or visit us during our weekly poetry slams, or to check out our local art gallery!" I really love this place. With tons of art on the walls and wood vibes everywhere you can't go wrong. Plus everything is what it sounds like, fair traded. They call it "Coffee with a Conscience!"
Address: 4220 N 7th Ave in Phoenix, Arizona
"Trendy stop for locally roasted coffee & sandwiches in a renovated gas station with a drive-thru." Okay I can't help it, this one is my favorite. It has a smaller less busy atmosphere. It's a little rough around the edges but I always get a fresh bagel sandwich and refills are super cheap!
These are all my favorite coffee shops and trust me, there are so many more here in PHX. We really love our local coffee shops. Let me know which one is your favorite in the comments below!